By: Julius Melnitzer | February 1, 2022
It's rare for lawyers to be unequivocal. But then, when it comes to capital markets activity, 2021 was a rare year for law firms.
"We certainly had not planned for what occurred this past year, which produced one of the best capital markets ever, and we're talking all sectors, all industries and all types of products," said Michael Innes, the Toronto-based co-chair of Osler, Hoskin & Harcourt LLP's capital markets group. "Government stimulus, loads of cash, low interest rates, and incredible investor demand for issues of any kind were the key drivers."
Leading Financial Post Data's law firm league tables for debt and equity combined were Osler as counsel to issuers, with an 18.2 per cent market share, following by McCarthy Tétrault LLP (16.7); Blake, Cassels & Graydon LLP (16.2); Norton Rose Fulbright Canada LLP (12.6); and Stikeman Elliott LLP (9.5).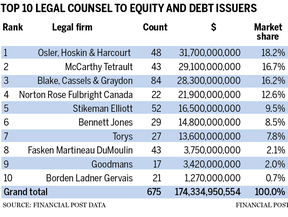 McCarthy was tops as counsel to underwriters (22.7), followed by Osler (15.5), Stikeman (13.2); Blake Cassels (10.0) and Torys LLP (8.1).
Overall, 2021 saw law firms handle 675 equity and debt offerings, up 32.6 per cent over 2020, representing volume of $174.3 billion, up 16.3 per cent. Some 580 equity transactions, up 51.8 per cent, accounting for $52.1 billion, up 62.4 per cent, drove the markets.
"It was very much the year of the IPO, the most in a long while and predominantly in the tech sector," Innes said.
For the most part, however, IPOs flourished in H1.
"The second half, when some of the proposed IPOs got pulled, was more of a struggle," said Andrew Parker, the Toronto-based co-head of McCarthy Tétrault LLP's national capital markets practice. "But otherwise, we saw a little bit of everything throughout the year."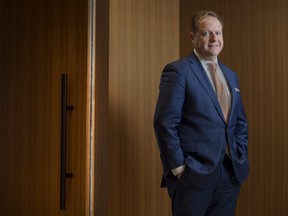 Top prospectus equity offerings included Shopify Inc.'s $1.96-billion issue in February; Definity Financial Corporation's $1.61B transaction in November; and Algonquin Power & Utilities' $1.40-billion issuance in June. Telus was also a major player with two deals totalling $2.66 billion early in the year.
And while the debt deal count dropped 25.2 per cent to 95 deals, volume rose 3.8 per cent to $122.3 billion.
"The threat of rising interest rates saw some issuers call bonds early with a view to refinancing in 2021," Innes said. "Green and sustainability-linked bonds also performed well, as did Maples, partly because the spreads were better here than in the U.S."
Top prospectus debt offerings included Canadian Pacific Railway Company's $8.41-billion issuance in December; the Toronto-Dominion Bank, with two deals totalling $9.49 billion in January and September; the Bank of Montreal's $4.68-billion transaction in September; and the Royal Bank of Canada's $4.13-billion offering in January.
The pace of activity was unrelenting.
"After a brief lull in Q1, capital markets were on fire for most of the year, drawing many new investors in addition to the usual group," said Jeff Hershenfield, the Toronto-based co-head of Stikeman's capital markets and public mergers & acquisitions group.
It was also challenging.
"Not only was the volume exceptional, but we were extraordinarily busy on high profile, complex offerings," said Catherine Youdan, a Toronto-based securities and business law partner at Blakes.
And intense.
"There was a real sense of hunger and urgency to get deals done," wrote Evelyn Li of Toronto and Peter Wiazowski in Montreal, corporate, M&A and securities partners at Norton Rose Fulbright, in email responses to questions from FP. "Almost every client conversation began with 'How quickly can we get this done?' followed by 'What can we do to accelerate that timeline even more?'."
According to Li and Wiazowski, the robust pace also changed clients' approach to transactions.
"While buyers still conducted thorough due diligence processes, there were fewer site visits and in-person negotiations, and agreement provisions evolved as well, not to mention the rise in the use of representation and warranty insurance," they said.
As it turns out, then, "busy" may be the only understated descriptor of 2021's capital markets experience for Canada's law firms.
"It was not unusual for us to work with one client on multiple deals — such as a debt and/or equity financing, plus one or more acquisitions, plus an up-listing or cross-listing — all at the same time," said Li and Wiazowski.
And all the while adjusting to the realities of remote work in pandemic conditions.
"Remote work allows people to use technology very efficiently, to be much more responsive, and to manage their time better," said Michael Hickey, a capital markets and securities partner in Blakes' Toronto office. "The downside is that in a collaborative firm like Blakes, people — especially younger lawyers — can miss out on organic opportunities presented by things like just poking their head into someone's office."
Indeed, by the time 2021 rolled around, the pandemic had been around for the better part of a year.
"We were all used to doing deals remotely, so that the 'new normal' became more or less normal in 2021," said Robert Carelli, head of Stikeman's corporate group in Montreal.
Still, Osler's Innes — who believes firms will adopt a hybrid work model when the time is right — is somewhat less upbeat about it all.
"Working remotely is conducive to productivity because there's nothing else to do when you're locked up at home," he said. "But it's soul-crushing for the lack of exposure to people and the inability to share practice points or discuss transactions in person."
However that may be, most capital markets lawyers expect 2021's momentum to carry over to 2022.
"There's some $90 billion in re-financing coming up in what will still be a historically low interest rate environment, so there remain plenty of opportunities to lock in at low rates for longer periods," Hickey said. "That said, we can expect more volatility, depending on how quickly and how much rates go up and how corporate results shake out."
RELATED STORIES
FP Dealmakers: The year central banks fuelled the debt binge
FP Dealmakers: After a tough first half, Bay Street bets on low interest rates driving more deals
Debt & Disease: As opportunism overcame COVID-19 concerns, companies raised record debt financings in 2020
From record highs to crisis lows, volatility takes toll on debt markets
Dealmakers relieved as appeal court says privileged information can be shared
Julius Melnitzer is a Toronto-based legal affairs writer, ghostwriter, writing coach and media trainer. Readers can reach him at [email protected] or https://legalwriter.net/contact.