Energy sector is high on the perceived opportunity list
By Julius Melnitzer | February 6, 2023
Canada's top M&A lawyers are taking a measured approach to 2023 after a sharp decline in deal count in 2022, when activity pulled back from unsustainable levels reached during the pandemic.
"We're starting to see activity again as people are accepting the new reality that the 10-year bond at 1.7 per cent is history, and that they'll have to access the capital markets in the current environment if they want to make investments and do M&A," said Michael Innes, co-chair of Osler's capital markets group, in an email last month. "That being said, we're still in a transitional phase where people are sorting out where things are heading, whether interest rates and supply chains will normalize, and whether or not we're headed into a recession."
The mixed outlook is understandable. After a blockbuster 2021 that produced one of the best capital markets ever, in virtually all sectors, the number of transactions completed fell 41 per cent to 398 in 2022, the lowest since 2015, according to figures collected by Financial Post Data.
"Almost every client who had a listing did a public offering in 2021," said Alex Moore, a capital markets and M&A partner at Blake, Cassels & Graydon LLP, suggesting that already-satiated demand made the conditions on the ground that much harder to overcome last year. Moore, however, is tentatively optimistic that better things await in 2023.
"We won't see the same kind of shock that marked the interest rate increases in 2022, and getting a better read on where the tightening stops will have a big influence on people's confidence," he said. "Clients who had a hard time raising equity in 2022 are seeing opportunity on their radar screens again."
Jeff Singer, a capital markets and M&A practitioner who is Stikeman Elliott LLP's chair, said "we haven't yet felt the brunt of the contraction," but that firms are finding ways to keep busy.
"Certainly, the deals in the pipeline require more creativity and often gestation time to get out the door, but there remain sufficient opportunities for the strategic and disciplined players to keep us busy," he said by email.
According to Financial Post Data's figures, Osler, Hoskin & Harcourt LLP wound up leading the pack as legal counsel to the issuer on total equity and debt offerings in 2022, garnering 29.15 per cent of the market share with $40.67 billion in deals. McCarthy Tétrault LLP came in second with 25.57 per cent, followed by Norton Rose Fulbright Canada LLP (14.75 per cent); Blake, Cassels & Graydon LLP (13 per cent) and Torys LLP (7.39 per cent).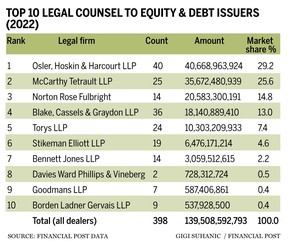 On the underwriter side, McCarthys came out on top with 24.78 per cent share or $16.65 billion, followed by Torys (14.65), Osler (13.12), Fasken Martineau DuMoulin (7.71) and Norton Rose (6.78).
"The downturn from 2021, an extraordinary year, doesn't change the overall perspective, which is that 2022 was a pretty good year," Innes said.
Jonathan See, co-head of McCarthy Tétrault's national M&A and private equity groups, was of similar mind and said certain sectors remained strong.
"Our firm handled the downturn very well," he said by email. "Our M&A and private equity groups were busy given the strength in mining and energy transition sectors and the rise in real estate volatility, predominantly due to value resets and increased borrowing costs."
Overall, the statistics demonstrated that activity continued to decline throughout 2022. While equity and debt offerings fell from about $43 billion in Q2, 2021 to about $36 billion in Q2, 2022, offerings in Q4, 2022 fell to $22 billion compared to more than $40 billion in Q4, 2021.
Still, Singer added, there may be a silver lining to it all.
"The past few years have been frenetic and maintaining that level of activity is not healthy," he wrote. "While the talent wars with the U.S. firms only served to add to the pressure on our teams, ironically they position us well today to remain at healthier utilization levels to manage the continued volume of activity which is — by historic measures — quite respectable."
Indeed, despite the precipitous decline in deal count, deal value fell by a smaller margin — 20 per cent — to $139.5 billion, partly due to surprising activity in the financial sector highlighted by large cross-border transactions from BMO and TD as well as RBC's purchase of HSBC Canada.
"The increased activity in the banking sector certainly helped," said See, who noted that McCarthy was involved in the HSBC Canada sale process. So was Blakes, which advised RBC.
Innes contrasts the banks' activity in 2022 with that of classic corporate issuers.
"The rising interest rates put a lot of activity on pause in the corporate sector, but bank activity funding M&A and capital issues was quite robust," he said.
The energy sector is also high on the perceived opportunity list.
So is corporate repositioning.
"We anticipate many companies will deleverage by trimming non-core assets, which will create acquisition opportunities for others that are at earlier stages or flush with cash from the past few years," Singer said. "And while private equity activity may be more muted in the first half of the year, venture capital continues to be quite active."
The opportunities arising from distressed situations may also drive capital markets.
"We're already seeing an uptick here," Singer said.
Hopefully, distress will not be a primary driver. However beneficial it may be to lawyers, too much of it doesn't augur well for the economy in general. But it might help explain why lawyers' perspective is a little more upbeat than that of their clients.
Julius Melnitzer is a Toronto-based legal affairs writer, ghostwriter, writing coach and media trainer. Readers can reach him at [email protected] or https://legalwriter.net/contact.
RELATED ARTICLES BY AUTHOR
FP Dealmakers: As governments pulled back on debt issuance, corporations picked up the slack
FP Dealmakers: Law firms on overdrive amid 'hunger and urgency to get deals done'
FP Dealmakers: The year central banks fuelled the debt binge
FP Dealmakers: After a tough first half, Bay Street bets on low interest rates driving more deals
FP Dealmakers: Debt & disease: as opportunism overcame COVID-19 concerns, companies raised record debt financings in 2020